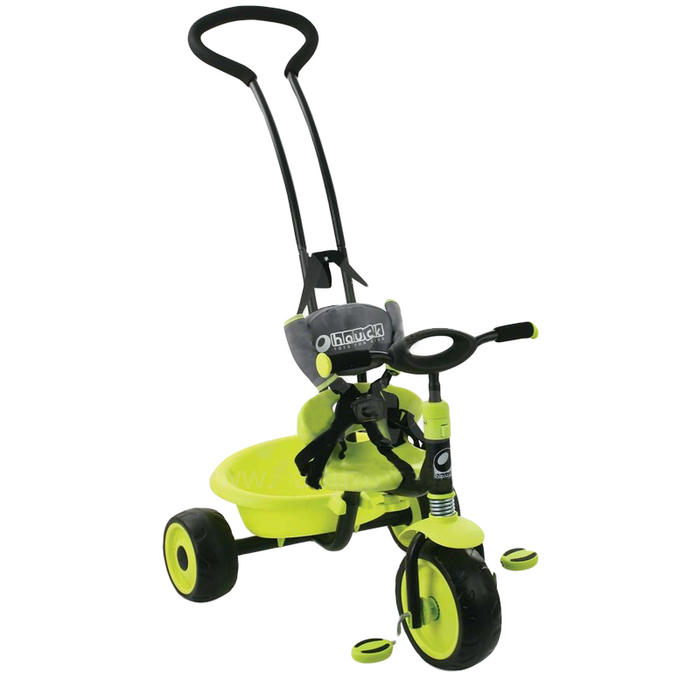 Minitraxx- Prema Tricycle Green
The Prema Tricycle from Hauck is ideal for little kids who'd want to ride solo on wheels but are really yet too little to cycle on their own. With the Hauck Prema, Mum essentially steers the cart via the long parent handle at the rear, giving the child that feeling closest to independence. The adjustable bucket seat and the padded backrest cushion ensures a comfort fit for the child whilst the 5-point harness provide safety and secure for the little one.
This beginner's trike is actually a great way to jumpstart your child's development on speed and balance, the foot to floor pedal is an excellent mechanism that teaches control of speed and direction. A generous rear basket can be used to carry snacks, toys and other knick knacks -- yet another great feature of the EZ Rider 12. Finally, the parent handle can be detached when the right moment comes, meaning the child is already old enough to ride the trike on her own.


FEATURES & FUNCTIONS
Detachable parent pole
5-point harness
3-Way adjustable bucket seat
Detachable basket
Freewheel option
Steer lock function
Padded backrest cushion

Wheels with EVA tyres

Removable push bar

Freewheel function and handlebars can be fixed

Suitable for children aged 2 years and over