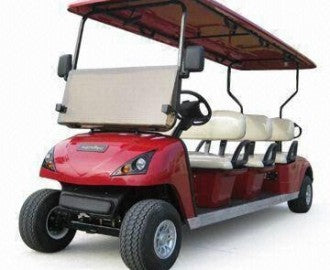 This 8-Seater Electric Golf Cart comes with a smart steering system so it's easy to go forward and backward. Its impressive climbing ability makes it easy to ride and park on steep terrain. We also offer an option to modify it into to utility carts by adding on an accessory.
FEATURES:
Best climbing ability. The system allows you to customize the car to fit your course.
Smart Steering System. Easy to switch from forward to backward motion and vice versa
Curtis Controller
CE, UL and SAA Certified
Optional Accessories Availability
 Different Colour Availability.
SPECIFICATIONS:
POWER SUPPLY
Battery: 8V170AH*6
Motor: 48V4KW
Controller: American Cutis Electronics Controller
Accelerator: Adjustable Inductive Accelerator Continuously Variable Speed System
Charger: Full Automatic Efficiency Pulse Charger
SUSPENSION
Suspension: Leaf Spring With Hydraulic Shock Absorbers
Steering: Self Compensating "Rack & Pinion" Steering
Braking: Rear Wheel Mechanical Drum Brake and Regeneration Brake
PERFORMANCE
Maximum Speed: 18-24 km/h
Maximum Travel Distance: 80-100 km
Slope Climbing Capacity: 30%
BrakeRange: ≤3 m
Carrying Capacity: <50dB(A)
640 kgs
Turning radius: 6M
Weight(Without Battery) 440 kg
CHASSIS
Chassis : Steel
Wheel Base: 3150 mm
Front Wheel Tread: 870 mm
Rear Wheel Tread: 970 mm
Tires: 18*8.50-8,4Ply
Dimension(L*W*H): 3940*1180*1950 mm