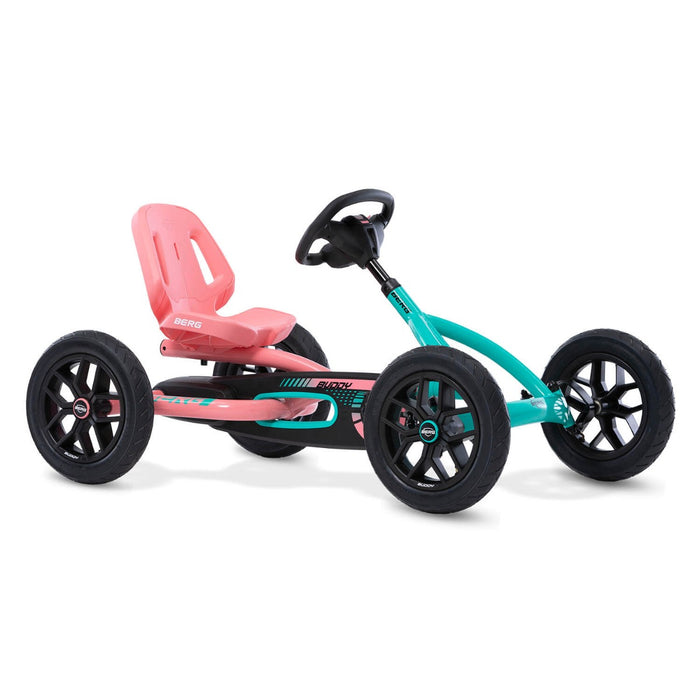 Buddy Go-Kart Lua
Save

2

%
Original price
₱25,899.75
The BERG Buddy Go Kart is a stylish looking and high quality go kart for your kids to enjoy and have fun outdoors.
One of Berg's best-loved models, the Buddy, has been through a major upgrade. This model has been completely retuned and the design has been thoroughly worked over: beautiful rims and new tyres. A bucket seat which is even more comfortable, and great handlebars with maximum grip, all set up ready for the BERG Soundbox.
With the Buddy, you drive tough and are definitely the fastest on the street.
One of the Buddy's best features is the BFR system. Suppose you are going very fast, you can suddenly brake using your pedals and start going backwards immediately. This makes your driving style fast, flexible and ever safe. At any rate, the direct drive makes pedalling light and smooth.
The solid frame ensure's quality throughout and the adjustable seat and handle bars means the Buddy Go Kart grows with your child and they can enjoy it for many year to come. The amazing swing axle keeps the wheels on the ground even if the riding surface is uneven. 
Features:
BERG Buddy grows with you due to its adjustable steering wheel and seat

The BFR-system allows you to brake using the pedals, but also reverse immediately after coming to a standstill

The pneumatic tyres ensure extra comfort

The swing axle provides extra grip to keep you firmly on the ground
It is a lightweight and compact kart that takes up little space and can be easily stored in a vertical position.

The Dutch brand BERG Buddy GREY pedal car has the BFR system, it is an intuitive system for children, only by activating the pedals can go forward, reverse, free-wheel and brake. Suitable for children aged 5 years and up

Optimum security with BFR system.

 Adjustable steering wheel and seat with various positions.

 Stable driving thanks to its articulated shaft.

 Strong asphalt tyres.

 Compact and lightweight, can be stored vertically.

Tested under extreme conditions with very positive results.


Kart measurements: 110cm (L) x 65cm (W) x 50-65cm (H)
Weight: 18 kg
Box dimensions: 71 x 82 x 26 cm.

Minimum user height: 90 cm
Maximum user height: 130 cm
Maximum recommended user weight: 50 kg


The Buddy Dutch brand BERG pedal cars are strong, safe and fun
Click here to watch Berg Go Karts in action!