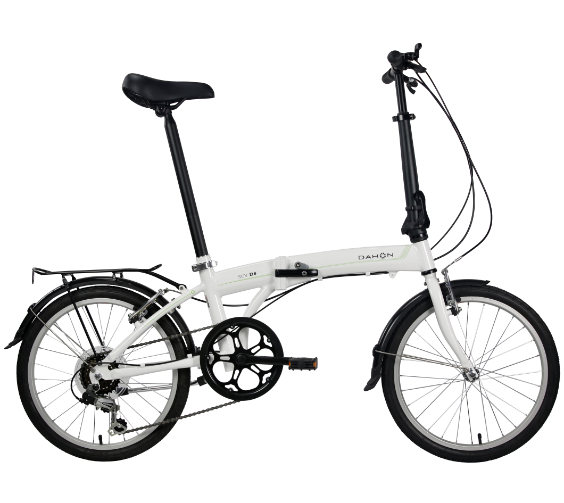 DAHON SUV D6 20"
The epitome of versatility and value, the SUV D6 has compact wheels and a folding frame that stores in seconds. This stable bike is great for maneuvering through taxis, along the boardwalk or storing in a camper. It's a gateway to get out and play.
As a folding bike, it can go anywhere you go. Whether your ride the entire way or go part of the way by bus, train, car, boat or plane your DAHON folding bicycle goes with you. Due to its compactness, your DAHON folding bike can easily be stored indoors, safe against potential theft, vandalism, or if you just want to keep it clean.
DAHON is the world's leading manufacturer of folding bikes – and has been for over 30 years. What's more, 95% + of all folding bikes on the market today rely on DAHON's pioneering technology. All Dahon Folding Bikes have the most advance.
You can get an extended Dahon Limited Lifetime Warranty upon registering your bike. For Dahon Warranty and Bike Registration, please click here.
Specifications
Folded Size

: 800*345*665mm

Weight

: 13.10 kg (28.88 Ibs)

Frame

: Dalloy Aluminum, Lattice Forged Hinge, w/ ViseGrip Technology

Adjustable Handle & Seat: Equipped with a Radius Telescope made of forged alloy with Fusion Technology, the handlebar and seat can be adjusted to give you greater comfort
Fork

: Smooth Riding and Stable Hi-Ten Steel Blades and Steerer

Handlepost

: Dahon Quick-fold Binodal Handle Post

Speed

: 6 Speed

Drivetrain: Shimano Tourney
Brakes

: Aluminum 110 mm V-Brakes

Accessories included

: Front and Rear Fender, Rear Rack




NOTE on SEALED BOX
Sealed box is direct from factory seal. It will arrive 99% assembled in folded form. You will still need to have it tuned up before your first ride. If you want your order assembled and/or tuned up for free, please choose the "Assembled and Tuned Up" option instead.
NOTE on ASSEMBLED AND TUNED UP
Assembled and Tuned Up is when we open a sealed box then assemble, tune and the place it back in original box in its folded form. When you take the bike out, all you have to do is unfold and you can ride it out of the box. This does not replace tune up maintenance for the life of the unit as per user manual.