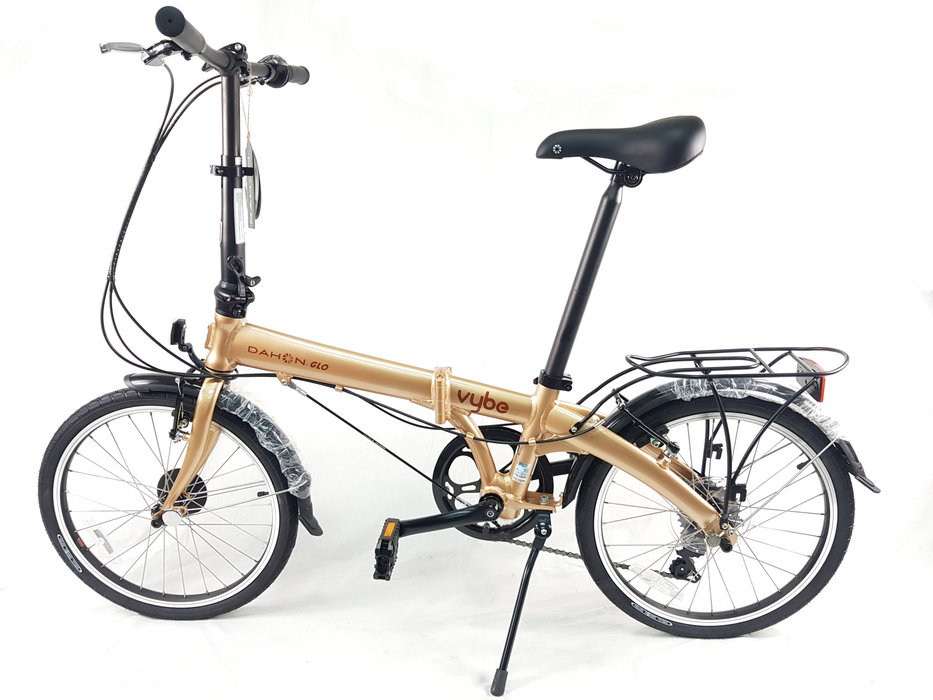 Vybe D7 Bronze (Glo Edition) Complete
Save

7

%
Original price
₱29,999.75
The Dahon Vybe D7 promises convenience and true riding comfort, with all the compact folding features that today's busy people have come to expect. A better ride.
With the 7 speed system, just easily shift up or down to get into the right gears. Adjust the seat and handlebar to give you a most comfortable ride.
Complete with accessories, it comes with a built-in mudguard keeping your clothes from getting mud splatter if you get caught out in the rain. The rear rack easily accommodates side panniers and a rack top bag. The rear of the rack functions as a convenient handle when the bike is folded and you need to pick it up.

Designed for leisure and daily commuting, this this makes it quite compact and easy to stow away into the trunk of most cars. Suitable for a rider height from 4'9" to 6'2" and a maximum rider weight of 230lbs.
As a folding bike, it can go anywhere you go. Whether your ride the entire way or go part of the way by bus, train, car, boat or plane your DAHON folding bicycle goes with you. Due to its compactness, your DAHON folding bike can easily be stored indoors, safe against potential theft, vandalism, or if you just want to keep it clean.
DAHON is the world's leading manufacturer of folding bikes – and has been for over 30 years. What's more, 95% + of all folding bikes on the market today rely on DAHON's pioneering technology. All Dahon Folding Bikes have the most advance.
The new Dahon Glo Edition is the range of all models designed and manufactured directly by Dahon. Dahon Glo means "Dahon Global" and means that it has passed all international safety standards and quality control for all countries for worldwide distribution. 
All Dahon Glo Edition models can get an extended Dahon Limited Lifetime Warranty upon registering your bike. For Dahon Warranty and Bike Registration, please click here.

Frame: VYBE Dalloy Aluminum, Lattice Forged Hinge, w/ ViseGrip Technology

Alloy Parts & Components
7 Speed Gear System
Small, Lightweight & Compact Folding Size
Folded Size: 66.5 x 35 x 80 cm

Wheel Size : 20″
Weight : 12 kg (26 lbs) approx.

Fork: Smooth Riding and Stable Hi-Ten Steel Blades and Steerer
Handlepost :DAHON Forged Aluminum Radius V Handlepost Adjustable

Drivetrain : 7-Speed Rear Derailleur

Wheels : 20" Aluminum Rims with 28 Hole Front and Rear Hubs
Seatpost: Aluminum, 33.9x580mm
Brakes : Winzip Smooth and Powerful 110mm V-Brakes
Rider height : 145-190cm (4'9″-6'3″)
Max Rider Weight : 105kg (231 lbs)
Pedals: Folding pedal
Kickstand: Aluminum
Reflector, Front & Rear: Included
Wheel Reflector: Included
Mudguard: Included
Rear Rack: Included
Landing Gear Base: Included, compatible with Dahon Landing Gear optional accessory excluded
Front Rack Base: Included, 

compatible with Dahon Front Rack optional accessory excluded
NOTE on SEALED BOX
Sealed box is direct from factory seal. It will arrive 99% assembled in folded form. You will still need to have it tuned up before your first ride. If you want your order shipped assembled and/or tuned up for free, please choose the "Assembled and Tuned Up" packaging instead.

NOTE on ASSEMBLED AND TUNED UP
Assembled and Tuned Up is when we open a sealed box then assemble, tune and ship it in original box in its folded form. When you take the bike out, all you have to do is unfold and you can ride it out of the box.